We will only post the true documents here so you  can see for you're self what is fact and what is not. We believe that to understand the Lies and fraud that MR. Evan lee Jensen has brought foreword one must have evidences. so we have posted it all here in one place for you.
We will walk you step by step through the lies and deceit Evan has told so many. by showing you only the documented facts.
It is up to you to make up you're own mind based on the evidences presented here. each time you see the word  ( RED FLAG ) a piece of documented evidences will fallow.
Evan's own Bio,
I own and opperate Beyond The Edge Of Reality radio network and produce and host all of the shows for the network i write, edit. produce and over see all things with our blogs, pages and content.
( RED FLAG)- in his own words he clams to be a writer, editor, but yet he clams to be legally blind ( please see screen shot below.
former producer of the 106.5 F.M radio show The super unknown
(RED FLAG ) – We got in touch with 106.5 FM by e- mail about Evan , (please see the e- mail that was sent back to us by the owner.)
I'm sorry to say that the name Evan Jensen has not been a producer at this station, unless he was working in the background or with one of our other show host.
If I can be more help or if Mr. Jensen can supply more information that I can verify I would be happy to respond.
Bill Scally
General Manager
KItc Fm 106.5 Kitcfm.com
KncpFm 107.3 Kncpfm.com
( please fill free to call for you're self and ask)
Evan Jensen has appeared on over 300 radio shows around the country as eather a guest or has been asked to guest host. His arrange of material ranges from occultic to paranormal phenomena.
Evan's Credits
The G.R.I.P.E, RADIO
(2012)
HOST PRODUCER, PUBLICIST
beyondtheedgeofreality.netT
Unexplained Phenomena,Ghosts, Hauntings And The Super Unknown
(2011)
host, producer.
( RED FLAG ) he did not get in to the field of the paranormal until 2012 by his own words please see the video below.
beyondtheedgeofreality.net
( RED FLAG) – Evan in his own words states he did not get into the paranormal until 2012 ) (please see video Evan did him-self stating he started in the paranormal in 2012 )
Evan's Awards
whos who in the paranormal world 2015
(2015)
Exellence in broadcasting award
(2014)
paranormal awards best show of 2013
(2013)
Paranormal entertainer of the year 2009 (2009) ( RED FLAG ) ONCE AGAIN HE IN HIS OWN WORDS DID NOT GET INTO THE PARANORMAL UNTIL 2012.

( RED FLAG ) – Evan clams to have won many awards we did some digging and came to fiend that Evan never win an award in the paranormal field. (please see screen shoot where he clams to have won.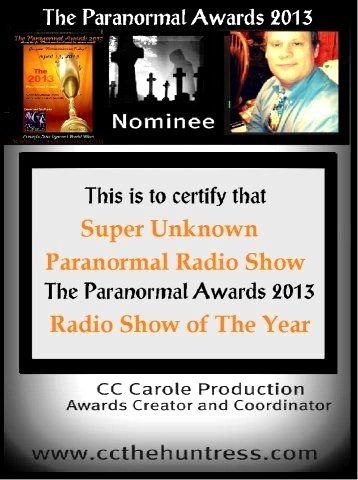 (please see the true winners listed below taken off of the web sight it's self. )
The Paranormal Awards 2013 pictures and Winners
CC is interviewed by the press
Steve Clark & Naomi Gorman singers
Jason Wasley Ghost Adventures
Lei, Brown, CC & Mia Brown
Tom Bosselait enjoys the day

Tom is a member of The Conscious Spirit Group and won best EVP of The Year 2013
CC Rocks the Opening Number
The Awards were Jammed Packed
John Brightman EVP 2nd runner up
Cap, CC Carole Productions copyright 1996-2020
WE ROCKED IT! Congratulation to the Winners of The Paranormal Awards 2013. Special thank you to all the Nominees, Speakers, Presenters, Entertainers, Staff , Security, DJ Mark, Committee members, Board members, Inns,
Restaurants and Local businesses. Without the help love and support of theses individuals The Paranormal Awards 2013 would not be possible. I thank you all from the bottom of my heart. Our convention was packed our Awards was packed. The vib of love for each other was simply amazing. I love you all. love ya, CC
Winners:GH (Ghost Hunting Category)
Investigator of The Year – Eric Metzler Souhegan Paranormal Investigators
Radio Show of The Year – Sandman ParaReality Radio Show
Radio Show of The Year – 2nd Place: Club Para The Para Lounge
EVP of The Year – Winner Tom Bosselait The Conscious Spirit Group
EVP of The Year – 2nd Place: " Welcome to Cordon" John Brightman
EVP of The Year – 3rd Place: " Mary Ann" Jo-Anne Burdin The Conscious Spirit Group
Team of The Year – NEPA Ghost Detectives
Researcher of The Year – Bob Christopher
Internet Show of The Year – Winner GCUK Paranormal
Internet show of The year – 2nd Place: Creepy Places of New England
Suzi Boucher Mediumship Award – Winner -Rick Hayes
Picture of The Year – Mary Sonia NEPANH New East Paranormal Association of New Hampshire
Picture of The Year – 2nd Place: Iain Lawrence
Laura Cartwright Humanity Award – Winner – NEPANH North East Paranormal Associates of New Hampshire.
Literary Award – Karen Vance Hammond Shoe Marks
Literary Award – 2nd Place Chad Stambaugh Paranormal Investgations
Winner:(UFO Category)
Literary Awards – Prof. David Pares & Chris Massin
Winners:(Bigfoot Category)
Researcher of The Year – Jason Morse
Picture of The Year – Jason Morse
Radio Show of The Year – Chattahooches Bigfoot Radio
Team of The Year – Crypto Crew
Winner: (Cryptozoology Category)
Researcher of The Year – Terri Harlow
( As you can clearly see Evan lee Jensen name is no where on it. )
Evan has never won an award for anything in the paranormal. and truth be told he has been band from blog talk FOR LIFE. for harassing and stalking people on line.
Now in Evan own words please see his BIO below
Evan L Jensen was born in the greater Portland Oregon area.  He was the Son to a poor family of 5, his father a long shore men, who worked for the port of Portland and the ship repair yards. His mom was of  Pennsylvanian Dutch decent(low land German). His father was from Copenhagen Denmark, who fled the country during world war two, just as the Nazis invaded his country.
Evan Jensen's sister is a law judge in Marion county. ( RED FLAG ) – ( we checked into the judges at the court house where Evan stated his sister in-law worked and you can clearly see there is no Judge Jensen.
Judges and Judicial Staff
Marion County Courthouse, 100 High St. NE, Salem:
       Honorable Donald Abar, Courtroom 1A
          Nikki Hahn
Kendra Anderson
Main:
503.585.4939
Fax: 503.588.5114 
       Honorable Claudia Burton, Courtroom 1B
          Donna Birch
Megan Curry
Main:
503.584.7713
Fax: 503.584.7718       
        Honorable Thomas Hart, Courtroom 2A
          Ashley Klein
Zach Clausen
Main:
503.584.7749
Fax: 503.589.3262
        Honorable David Leith, Courtroom 2B
          Brooklynn Hatchell
Erin Rascon
Main:
503.588.5160
Fax: 503.588.5117
        Honorable Channing Bennett, Courtroom 2C
          Kimberly Blades
Taylor Smoker
Main:
503.588.7950
Fax: 503.588.5115
        Honorable Courtland Geyer, Courtroom 2D
          Kim Taylor
Danielle Pineda
Main:
503.373.4445
Fax: 503.588.7928
        Honorable Tracy Prall, Courtroom 4A
Cindy Haddad
Brady Trujillo
Main:
503.588.5030
Fax: 503.588.5109
        Honorable Cheryl Pellegrini, Courtroom 4C
          Renee Brown
Tammy Padua
Main:
503.588.5028
Fax: 503.588.5027       
        Honorable Sean Armstrong, Courtroom 4D
          Tracy Chance
Melissa Martinmaas
Main:
503.588.5026
Fax: 503.588.5113
       Honorable Susan Tripp, Courtroom 5A
          Laura Baker
Wendy Biggs
Main:
503.373.4361
Fax: 503.589.3218
       Honorable Mary James, Courtroom 5B
         Krystal Pearson
Cindy Twiggs
Main:
503.373.4303
Fax: 503.373.4305
       Honorable Dale Penn, Presiding Judge, Courtroom 5C
Monica Martinez
Kristin Atkinson
Main:
503.588.5492
Fax: 503.589.3266
Marion County Circuit Court Annex, 4000 Aumsville Highway, Salem:
Hon. Vance Day, Courtroom B
         Cindy O'Neil
Main: 
503-588-8485
Fax: 503-566-6933
Juvenile Court, 3030 Center St. NE, Salem:
        Honorable Lindsay Partridge
Kandee Lindquist
Monica Williamson
Main:
503.566.2974
Fax: 503.584.4816
His brother Erland has worked in Portland as well for over 35 years with the same company.
Evan Jensen graduated high school in the old Oregon City high school in Oregon City Oregon in 1985. That summer of 1985,
Evan went into the U.S. armed forces, where he served in the United States Navy. As a young man finding his way it was a little breathtaking at first, as was the new scenery, the new surroundings. While serving on board the U.SS Midday C.V-41,
(please Seen in evens own words where he clams to be a Navy Seal.
 ( RED FLAGS ) – Evan did not even make it through basics before he pulled a loaded gun on his commanding office and was put into the brink. Evan was discharged for mental instability. ( please see his own DD214 below )
Now a woman by the name of Leslie did some digging and came to fiend they he indeed commuted stolen valor, after Evan was forced to come clean. ( please see screen shot below)
he saw several different countries and had started traveling the world most of that was inside the orient itself.
After leaving the United States Navy, Evan Jensen settled down to marry his Philippine sweetheart and current wife. Evan Jensen has been married over 21 years and has a wonderful daughter Emilee Jensen, who is now 19 years old.
After the Nave kicked him out Evan jensen went to prison for Kipping a woman out of a Safeway parking lot in 1992 ( please see document below )
Evan Jensen currently resides in Milwaukee Oregon with is wife.
Evan Jensen has made plenty of mistakes in his life,but as most have,he has learned from his mistakes and continued to grow as a family man,father and husband to his wife.
Evan Jensen has always had a love for the super unknown and in 2004 and later part of 2005,he began to get known.
( RED FLAG) In his own words he states he did not get into the paranormal until 2012. please see video link above)
He created several paranormal talk shows since then and has grown in the paranormal field.Evan Jensen is a major voice known inside the paranormal field.For some a down right pain in the ass.His(Evans) ways are different then most people.He is not afraid to face diversity and is never afraid to voice his own opinions, even though some may not like it.
( RED FLAG ) we have shown that everything Evan states is a lie..
( RED FLAG ) Evan in his own words stating he has friends come on his shows posing as other people just to set people up. ( see screen shot below )
( RED FLAG ) Evan has even made up things in the paranormal to trick people like that of the white eye demon child. (please see screen shot below )
Evan  Jensen has written for Eye Of The Paranormal,as well as now writing for his own paper The Paranormal Herald.Evan enjoys writing different articles while he can,because he knows it is just a matter of time and then he will not be able to write any longer.
Evan Jensen was diagnosed with a rare brain tumor in 2001,went through surgery at kaiser Hospital July 1st 2001.Evans surgery lasted 12 hours on the operating table,the doctors were able to lazer the brain tumor flat,but were not successful in getting the entire tumor. The the doctors stated they knew it would grow back,but they did not know exactly how long it may take. according to recent eye strokes last year, the doctors told Evan Jensen the tumor was back. But this time because of the growth, they were not able to do anything.
Evans tumor is what they call slow growing, it was not cancerous.It is now being watched by the Oregon Health Science University.
Evan Jensen wishes all his friends great success inside the paranormal field, to his enemies he also wishes them the best.
One would ask why the need to lie so much about who you are? How did a child pedophile and convicted kidnapper become able to be in the field with a ton of investigators. did no one bother to do some looking into this guy?
Evan has a very long history of stalking and harassing woman on line to the point that there are active warrants out for him in Petersburg  VA.  (please see document below )
He as well has many restringing orders for stalking woman ( please see below )
please fill free if you need any of the documents on the blogs to get in touch with us and we will get them over to you.